Animation For Kids with Adobe After Effects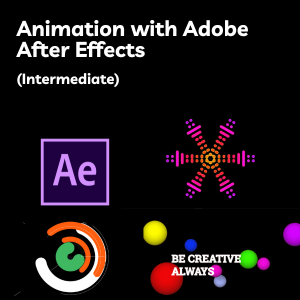 Course Description
Available Now.
Learn how to create wonderful animations. This course is for kids between the ages of 14 and 18 years old and no experience or prior knowledge is required. Though an experience in knowledge of graphics may be necessary. The curriculum is in-depth, extensive, and constantly being refreshed, guaranteeing you are continually getting the skills you need to design beautiful motion graphics.
With Adobe After Effects students can create animated text, videos and special effects for graphics-related projects such as TEXTS and SHAPES. You can use After Effects to animate, alter, and composite media using various tools.
Learning how to use After Effects is very important for the learner in terms of skill acquisition and can be self-rewarding if you choose to push it to the next level as a career.
The knowledge and mastery of After Effects gives you the power to showscase some amazing pieces of video content!
Learning how to use the software helps develop technical skills in the child.
Knowledge gained in learning how to use after effects is applicable to creating dynamic, visually attractive motion graphics and cinematic visual effects.
What you need
No prior knowledge is necessary for this course
Recommend taking Graphics Design Course
A working Laptop capable of running Adobe After Effect
A minimum of Core i5 processor or higher with at least 12GB RAM 500GB STORAGE to start with
The Software: Adobe After Effects cc2019 or higher. & Either Adobe media encoder or Handbrake or Format Factory.
Internet connection
A note and a pen
Learning Outcomes
Over 34 lessons and 10 hours of content!
Audio: English
Level: Beginner to Intermediate
Create motion graphics like a pro in a simple and precise way.
Information packed practical training starting from basics to advanced Animation techniques.
Best suitable for beginners to advanced level users and who learn faster when demonstrated.
Practical assignments at the end of every session.
A practical learning experience with live project work and examples.
Certification
You would receive a certification of completion after this course
Instructor
Skooqs is an online learning community for kids to develop their technology and creative skills, with access to 1000+ courses & projects on coding, illustration, robotics, music, painting, photography, finance, blogging, language skills, art and a lot more.