Wonders performed by children as young as 7 in the Tech world are not stories that one hears every day. In short, hearing it once in three months still seems almost unfeasible.
However, one little girl brought herself out to the spotlight with her remarkable creativity.
Emmanuella Oziofu Mayaki, a young girl from Edo, Nigeria, worked so hard to stand out amongst her age mates as one of the very few creative children in the Tech world. At age 7, she already nurtured interest in Software Programming.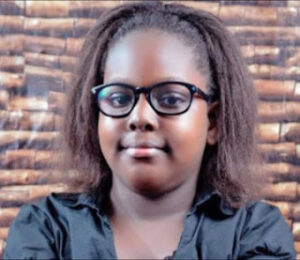 Her father, John Mayaki, was observant enough to notice how interested she was in Tech because of the inquisitive behavior she displayed around him whenever he was using his Samsung Galaxy Tablet. Unlike most Nigerian parents that would push their children into studying their books with hopes of furthering their education in the university, Emmanuella's father took a bold step to get her a laptop. He even went further to enroll her in a computer school during the holidays.
This was the beginning of the journey in Tech for Emmanuella.
It was just two years into her Tech journey when she had already completed some online courses on SOLOLEARN California. These courses encompassed Fundamentals of HTML, PHP, Fundamentals of CSS, SQL, JavaScript, and IQuery. At the completion of each course, she gained a certificate as proof of her knowledge acquisition.
You could imagine the amount of certificates that this little girl already had in a long list of courses that are popular for their technicality.
Emmanuella's inquisitiveness is unbelievably impressive as she went further to enroll in the Mikon Institute of Information Technology. In this institution, she bagged diploma in Desktop Publishing, Corel Draw, Adobe Page Maker, Advanced Power Point and Excel.
Her drive to be a Pro in Web Design made her enroll in Complete Computer Technology Institute. She mastered the skill there and applied her gained knowledge in creating her website, the food website. Through this website, she educates parents and children on eating healthy local and international dishes whilst avoiding junks.
This young girl refused to rest. Yes, she went further to take more courses.
She enrolled in Tech24 where she learnt Mobile App Development. Again, she applied the knowledge in creating her personal mobile app which aligned with the goals of her other website, Emma's ICT Academy. Both the app and the website are innovative digital products and mapped out platforms where individuals could get on to learn technological skills.
Such a brilliant little girl is really hard to come by and the authorities of Southfield Primary School Coventry England were smart and fast enough to grab her before other organizations did. As of 2020, she was a student in the school where she taught children of her age technological skills.
Emmanuella has refused to stop learning. Her dream of becoming a Machine Learning Engineer has been her motivation to taking up more courses where she is presently learning Prolong and Lisp.