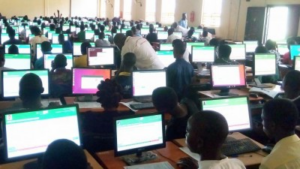 One of the causes of poor performance of students in the JAMB CBT Exam is due to lack of practice and incompetence in use of technology equipment.
You would agree with me that some of our secondary schools, both public and private schools lack basic technology equipments, meaning a high percentage of students haven't used a laptop or a desktop to take an exam until the day of their JAMB exam
Although some might disagree and say, what about those scoring high marks, do they have two heads. Well, inclusion is very important when diving deeper into the digital space, you might have heard of the word "Cyber-Phobia" it does exist.
Helping schools and student develop their use of technology skills and gadget is really essential.